CoJ
v1
CoJ v1 was a late 2008 Peugeot 107 urban lite. I only needed a small car for me (pre-cat days). He came from drivethedeal because that made buying a new car a realistic option and his registration was chosen by a computer – "just the next one on its list" – but I decided it stood for Little Motor Car of [me] – I liked that so kept it when I changed the car.

v2
I started doing more things that involved carrying kit around and with the threat of a tax increase on new cars took the opportunity to change him to a 208 allure in early 2017. I had planned to keep that for about 15 years. While I loved it I was travelling over land more than I had been after a few years and wanted to do much more. We like sleeping in a vehicle and CoJ v2 was just a little on the small side to do that and look after ourselves well. I can't afford to run 2 vehicles, I don't want to be driving a big van, and I like the gadgets in CoJ v2. After a lot of research I came to the conclusion I'd have to part with CoJ v2 to get CoJ v3. A little sad as I liked his £0 tax, 55mpg, and large digital speedo a lot.

Research
This is the shortlist of potentially suitable vehicles I came up with.
LR disco 4. This is what my car is in my dreams. Ruled out because of the high price.
Peugeot – partner/ bipper/ rifter. Rifter ruled out because of the price and it doesn't go completely flat. The partner is mostly the same as a citroen berlingo and vauxhall combo cargo.
Romahome (citroen) (r10?). Ruled out because of the relatively high price.
VW caddy combo. Ruled out because Peugeot seemed a better option. The 107 and 208 were the most comfortable seating positions I found in a car and I hadn't liked a VW position.
Wheelhome vikenze / skamper (fiat). Ruled out because of the high price.
v3
CoJ v3 is a partner tepee (the peugeot version is better than the citroen version – airbag, reliability, fuel tank size, and running cost wise) – a van-based car with removable rear seats for lots of space so I could set up better sleeping and eating arrangements. Gadget-wise it had to be newer than 2016. I feel it's missing a digital speed display but if that's the only thing I figured I'd learn to live with it or work around it with a HUD. CoJ v3 gets about 10mpg less than CoJ v2 which isn't so great for my pocket especially on top of having to start paying tax and find the unexpected purchase money. It had to be red and it had to be petrol because I think that even though diesel is more efficient for long distance it can have more issues which are expensive to fix and I do a lot of short distance running around which petrol is better for. A nearly new car meeting most of my requirements (4yo, so tax is expensive on my scale of £0 being good and £20 acceptable) and with just over 2000 miles on the clock was available and I found it too hard to resist despite the tax. The engine was barely run in and the paintwork almost perfect. I'm not sure what some people do to their cars but Guy Perry had to fix peeling paint on the rear door sliders and I had to do some internal cleaning of sticky things. There's a little bit of damage on the passenger seat I might have to try to repair at some point and I read the fuse box might need waterproofing but apart from that it's pretty much a new car begging for adventures.


I christened the conversion project catmobile. The catmobile is Trixie's personal automobile and primary mode of transportation. There was cat fur in the car before she ever put a paw near it. I don't know how she manages to achieve this with everything.
Specs
Partner Tepee Outdoor S/S
1200 cc PureTech 110 (same engine as CoJ v2 – the best engine in a 208-sized car)
Insurance group 13
17p/ mile fuel (CoJ v2 15p)
55mpg (CoJ v2 was 65 technically but got 55, this one seems to get 45)
Range 640 miles
Fuel Capacity 53 litres
Weight 1320kg
Length 4384mm
Width 2112mm
Height 1862mm
Wheelbase 2728mm
Turning Circle 11m
Naming
You'd think swapping a number plate would be a nice little easy job wouldn't you? Not on CoJ v3! Got the old one off and found several holes had been made both front and back. Went to put the CoJ plate on and found the holes on it didn't match anything on the car. I wasn't able to make new holes in the back at the time so out came the drill to make new holes in the CoJ plate. I took the opportunity to get a UK plate when I had more time and facilities to sort it properly which will cover us for driving abroad (except in Spain/ Cyprus/ Malta) because that's neater than a sticker.
Why sleep in a car?
What's so good about a car?
Protected from elements
Protected from midges
Easy access to food
Easy access to toilet
Easy to drive off if I feel uncomfortable somewhere or am on a tight schedule
Not an obvious camper in a car
We can see what's happening around us – people, animal, and view wise
Quick to be horizontal in bed after turning off the engine
Why not stay indoors?
Cost of staying indoors would make 'regular' escapes impossible
We both prefer staying in something that belongs to us
Easy to make a last minute decision if and where to go based on weather and other plans
We can stop anywhere
No noise from other people as you get indoors
Why not use a tent or something else more outdoorsy?
Tents etc involve a degree of faff
I don't want to have to deal with soggy kit or getting soggy myself, or a soggy moggy
Tents etc require suitable ground
Garaging
Apparently it's quite unusual for cars to live in garages. Mine always have and I hope always will – I really hate having to deal with things like defrosting or getting wet to get from the car to the house. CoJ v1 fitted with lots of spare space. CoJ v2 fitted but I had to get him in the right place if I wanted to be able to open the boot. CoJ v3 is a garage-sized car so getting that meant relocating the shelving, selling my canoe (there was no way I was going to get it on top of CoJ v3 – I couldn't even get it on CoJ v2 by myself), and still not being able to put my hosepipe cart or robotic lawnmower in the garage. Width-wise unless my positioning is absolutely spot on centre I need to fold in the mirrors to get through the door. With the shelving moved from the back to the side there's about a couple of feet spare front to back. I'm not sure I would be able to get out of the driver door (I daren't even try) but it's relatively easy to slide through to the back to hop out of the sliding door. I can still do stealth loading of some things in the garage but can't get to most of the things stored down the sides.
Wheels
We like going 'off-road' – by which I mean down single track 'roads'. This isn't a 4×4 and I'm unlikely to be able to afford one of those with the gadgets and fuel consumption I'd like for at least another decade, plus I'm not capable of "going anywhere" solo and would actually have less space in one of those. I will consider fitting all terrain tyres when they need changing as I've been told they'll help a lot. Reading about other people who've done this maybe I'd need totally different wheels? I wonder if they could also give me more ground clearance? Too complicated for me so I will need to consult an expert – hopefully not for several years if the theory of getting 20000 miles out of a tyre is correct. There are other "essential off roading" items that are probably beyond me except possibly for snow chains.
Windows
Wind noise at high speed is incredibly annoying so I started paying attention to wind deflectors and decided to treat him to some when the weather was really hot. I think the possibility of having other people in the car makes them an essential addition though they don't get rid of it completely.
Visibility
CoJ v2 had stick-on blind spot mirrors. CoJ v3 did things properly and got himself auxiliary mirrors from eurocarparts.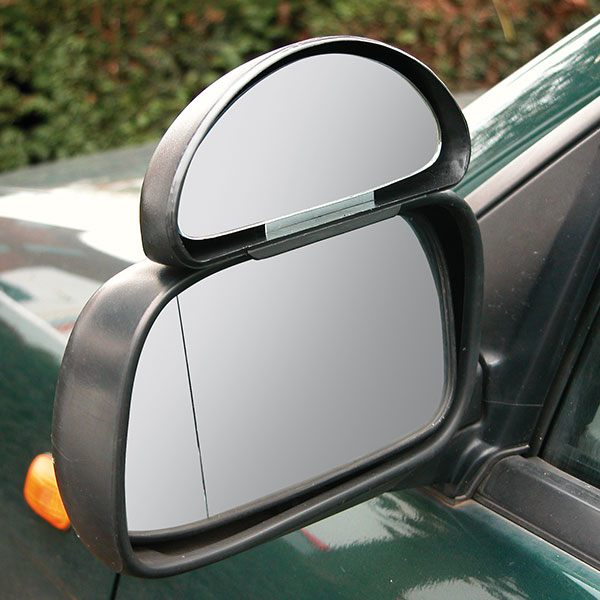 I took the opportunity of having scuffed the backs of the mirrors (big car, small garage…) to hide the damage by getting some reflective tape and make him more visible to other people at the same time.
Doors
I liked the idea of being able to open the boot from inside the car, and I also really wanted to be able to open the back window from inside. I learnt that the boot could be opened with the aid of a screwdriver from the inside, and after removing the plastic panel discovered that the window also could. Google gave several 'electrical' solutions but I didn't think I was capable of doing those by myself. A very un-technical solution of a wire tie through the mechanism and a bigger bit of wire attached to that provides a handle to pull the catch in the appropriate direction to unlock the door or window. The boot is easy to close from the inside, the window is do-able but requires a little luck.

If I want to 'hop' in the back it's a very high step up and almost impossible when the vehicle's fully loaded. My aging parent finds getting in to the front seat a challenge as well. Conveniently I had acquired some wood which is the perfect height for an aging parent step, will work if I want to get in the boot, should sit nicely across the end of the fridge-freezer to travel (and stop 4-paws walking on the buttons to turn it off!), and can also work as a table. Non-slip wrapped round it for hopefully obvious reasons and tape over its bottom edges so it will wipe clean easily.

I happened to sleep by an overland vehicle one night that had the shelf drop down on the back door to cook on. They had the full works of a shower head (presumably used for showering but also for washing up) and camp oven which are things I have considered would be nice but haven't implemented, but it did make me re-think that it might be nice to be able to have the option of cooking outside at the back with a wind shelter attached to the car. The simple addition of 4 screws and a couple of lengths of chain on my multi-purpose table/ step made this possible.

Insulation
I feel like I haven't really done much about this on the scale of removing all the panels and stuffing every available space but there are arguments against doing that and 'wearing more clothes'. It spends most of its time being a 'normal' car and there's lots of other things that needed doing with a time deadline of 2 months to make it usable for an island adventure. I thought it would be a good idea to take advantage of having removed the tailgate panel to fill that space with insulation (sheep's wool) but I'm not sure I want to pull the rest of the car apart just to insulate it.
I have some radiator foil for the side windows and an insulated windscreen cover (basically the same) which hangs nicely by the front seats, leaving space for a cat to get underneath in the centre without disturbing it. The back has an option of radiator foil or a non-insulated 'popup' windscreen cover which pops in to the gaps beautifully. All will be tested when act of cat is applied as much as in any weather. They stay in by magic (slid inside the rubber edge). Usually I prefer to sleep with a view but they could be useful for keeping out sun.
I usually put carpets in my cars – a habit I picked up from my mum. I've considered a vinyl floor because that's easy to clean but it's also not as warm and is annoying when it gets gritty bits on it. I've had a carpet rolled up for years which fits the back just about perfectly and is mixed colours to hide things like cat fur better. I put radiator foil under this, on top of the standard carpet, on the bed side. On the driver side it goes a few inches up the side which means anything against that side won't rub on the plastic and a little storage pocket in the boot is still accessible. On the passenger side I've put it straight up to the edge but I've put a rectangle of red which matches the front along the side as a bit of padding for the sleeping and storage structure and some protection from cold plastic where my head will be when sleeping. I put some radiator foil on the sides of the boot area and door. Wires for the battery run down the side of the carpets and through the convenient gaps. In the passenger footwell I've got a strip of different red carpet to cover the underfloor storage boxes and protect against muddy paws where the rear carpet ends. Covering the plastic between the front seats, and under the front seats is my well used red carpet.
Storage
It's a Multi Purpose Vehicle with a high roof and it's been designed to have an internal roof rack. At £100+ for the specially designed one I thought no thanks, but it would be useful to put things up out of the way. Dunelm do an extendable tension rod which fits in the gap perfectly. It might not be as strong as the Peugeot one but does give the ability to hang things like curtains or build rooftop storage. I made a frame from 4 bits of wood with square lashings then put the annoying big things such as chairs and tables on it. The movement and having to secure things is quite annoying so I think it's going to have to only be put in if absolutely necessary. The tension rods might squeak a bit but they are useful for hanging things on (including tying the frame up) and clipping the feline to, and I discovered when the car was very heavily loaded and I needed somewhere to put a sledge out of the way that it fits very nicely above the passenger seat and will provide easily accessible storage for light items. I may slip a chair in the footwell behind the driver seat if the weather looks exceptionally good but if I need to conserve space I have a small stool and tiny table which fit fairly flat in the footwell under the frame.
I've thought about creating overhead storage from the front overhead shelf to the first internal bar but don't want to overload the bar. There is still the distance from the second internal bar to the back window without anything above it which will give space for sitting on the bed without things above it to hit a head on.
There's a centre console storage box available which could be useful when away but I can't justify shelling out for one and the space is an excellent fit for one of my water carriers to be accessible (the other is in the footwell under the frame).
There was a useless empty space in the dash, and there were no other convenient spaces to put mugs. Not that I make a habit of drinking anything while I drive but I do transport a mug with liquid to work every day for breakfast. eBay was my friend and provided a cup holder to make the space useful.
The seats have arm rests in the centre but I'm the wrong size to be able to put my other arm on the door. An arm rest which attaches makes it a few inches higher and usable, and has storage in it (though I'm unconvinced it's actually useful).
An interesting idea for underfloor storage. I suspect it's only an option if the vehicle starts out as a WAV.
Sleeping, seating, and more storage
Loads of other setups don't seem to include fixed kitchens or have loads of faff changing things around. Some people have done serious plans in advance of building things – I guess these helped me to some degree by knowing they didn't match what I wanted and I created ideas in my head which Just Worked. Fortunately cats only need a mat on a rear window shelf rather than 1/2 the storage space as done by others.
It is possible to bolt things to existing holes and I might consider that as an improvement but the current setup of tying to them works well enough. Plenty videos about how to take the vehicle apart more but I don't think I want to do that. Not sure how it would work for accessing what's underneath but here's a neat idea for a frame that slides out to make the sleeping platform wider. I've also seen ones which fold out at night but I don't need one which expands. It looks like it's not possible to change the front seats to ones which swivel – I'm not convinced there's enough space for that anyway. The sleeping area will go behind the passenger seat because it's too much faff completely changing the layout all the time. I'm used to sleeping on that side and even if I make the bed frame foldable or one end liftable I think the kitchen on the driver side makes more sense because the fridge will never be kept in the car when I'm at home so that should give me the space I need for hopping in and out in the garage and being able to put shopping or loading small items in there.
I made a frame for a bed with storage underneath which will lift out – slightly annoying to have to remove the sleeping stuff on top but it's not too bad. When I bought my house I inherited bedroom cupboards with shelving, supported on one side by 2 lengths of wood with crosspieces. I had pulled one of them out because I needed hanging space. It is almost perfect for one side of the sleeping and storage structure – I had to chop a piece off the end of the crosspieces so it wasn't quite as high. I also moved one so it was attached at an angle instead of straight to line up against a bit of plastic that would be at the back of the rear seats if they were in.
Another inherited item was a garage storage rack. To fit the garage-sized car in the garage I'd had to lose the double depth double length top shelf. One borrowed portable circular saw later the length had been shortened to match the length of the side. Purely by chance the pieces I'd cut off were exactly the height needed to make crosspieces on the second side – these slot in to hooks to keep them in position. Now we get to the clever bit. I was aiming to build a frame that would be solid but would also be 'built' from flat so that it would collapse down if I needed to take it out, because lifting all of that by myself in one lot was probably not going to happen, and also so the underneath was accessible to get at storage boxes and the battery. At the boot end we have an end piece (architrave offcut) and the inset edge is large enough to put another piece of wood on which makes it almost up to the height of the top of the structure. On top of that is a skirting board offcut. That attaches to the passenger side piece by sliding in to an angle bracket. On its end is another angle bracket which the right side piece slots in to. Four crosspieces rest on top of the passenger side with the offcuts of the crosspieces attached underneath to stop the top moving forwards or backwards or towards the middle of the car and have a hinge on the other side. A skirting board offcut sits where these join, attached to the crosspieces with an angle bracket.
Is it perfect? No. But most attachments are out of sight and I've only bought things I absolutely had to, and I've done it all myself so I'm pretty happy with it 🙂 It works fairly well when away too – once the top of the frame is tied up (it's faffy to do that because it's heavy and the bedding needs moving) that gives privacy on that side then the boxes can be moved round and the back space is large enough to sit in and have a wash if needed.
I suppose it was inevitable, having built my storage/ sleeping frame so that access was only from the top and not with the boot open, that I would decide it would be nice to be able to get access to my boxes without having to move the bed if the weather and insects were being co-operative. When we wanted a day off driving in Shetland I modified the back panel so that it could be removed more easily and the 4 boxes behind the battery slide out. I'm sure I'll still be glad of the top access option in less good conditions.
Eating
A great suggestion for a sink came from a Land Rover budget conversion blog. I already have a 15l water carrier that can be used as a source, possibly with a hand pump tap, and it can drain in to an old water carrier which can be emptied when needed but I'm currently failing to see how I can set this up. Two of those should enable me to take enough water from home (I have a water filter there…) for a few weeks away. With the fridge in position the 'boot space' is completely full so I currently have a box just behind the footwell with kitchen things in so that it's accessible from inside and out, the top can be used as a flat surface and conveniently is the right size for a cat cushion, and there's a very small area just over 1′ square between it and the fridge for feet or other things. There are essential items in the side of this space – a bin and emergency toilet/ somewhere to put cat poo. The footwell is hopefully going to be left empty as a relatively easy route out of the car. Obviously a box could go on top of the first one, and also on top of the fridge if I needed larger loads of food for a bigger trip. The blue 'thing' is a hanging camp organiser I made when I was a teenager – similar items to buy are £75!
Looking at other 'kitchen' setups the biggest space-wise cover windows (I got a car rather than a van because I wanted windows so that's a 'no') or have tops which are wider than bottoms. I looked at other conversions and boot jumps but they are expensive and not exactly what I want – they have the good idea of a pull-out drawer for things like a stove to live in but it pulls out when the rear door is open: great for shelter but not so great if you don't want a big door open to stop the Scottish midge getting in your vehicle. I quite like the idea of something that can be used from inside or out – but it would be the side door on my car. I think the easy way to accomplish this is simply having things such as stoves and crockery in a box.
I wanted a fridge-freezer. Why? Fresh things don't last for a 10 day + trip but taking my own food so I'm not reliant on being able to buy things while I'm away is my preferred option 1) because we've never had the money to eat out regularly 2) it's convenient and cheap 3) health issues make it a better option. I got a dehydrator in 2021 and that's great for taking dried food but in CoJ v2 space was very limited and on the couple of occasions I took a stove it was far too much like hard work to even dig it out – and anyway what was the point when I could just munch on dried food? Well that's a little repetitive and I want to do other things but not prepare from scratch. Being able to take self-prepared frozen meals is great. I found a portable fridge-freezer from dellonda which would power off 12v or mains, about 1/4 size of my home one and at a very reasonable price. As a bonus I can use it in the house for extra storage space. They do smaller ones than this too.
30l water and a 60l fridge freezer is very impressive in a vehicle this size, and they're both portable. I'm comparing to a Land Rover camper conversion that had fixed 40l water and a 30l fridge.
Power… aka the really expensive bit
A fridge needs electric power. I really wanted to be able to have all power electric, and to be able to power things such as a blender and small cooking appliances to make travel life really easy. I don't want to have to plan to use campsites with electric hook-up. I dislike the idea of generators for various reasons, solar power in the UK can't be relied on, wind power isn't an amazing option either. I looked at fuel cells but the price was a bit high. So I was left with the option of a deep cycle leisure battery, and after a lot of research came to the conclusion the best way to recharge it was from the alternator with a battery to battery charger. I had narrowed it down to needing to be a lithium or lead crystal battery because lead acid can only be discharged to 50% and gel to 80%, and lead crystal and lithium can be used 'indoors' safely. Lithium weigh less than others (100AH is approx 13kg) and have a good life as well as being safe to use indoors. I read Renogy make quality items at affordable prices and they just happened to have things on offer – a battery which would potentially power the fridge for over a week without recharge (it uses 250Wh in 24h or 0.25kWh / 24hr which is about 11W so will theoretically run for 220h or 9 days), and options for recharge from alternator with a battery to battery charger or mains (with the option to add solar power later if I find I'm travelling to sunnier places).
The battery can stay in the vehicle almost permanently so I won't need to worry about trickle charge because it won't use power when I'm not away and will get topped up regularly from the alternator b2b charger. It's not the lightest thing in the world but nor is the fridge freezer or 2x15l water carriers. If I need to put more than 1 back seat in I'll remove the frame, disconnect the battery from the charger, and attach it further back in the boot area – 3 seats means I'm not on an adventure so it'd have enough power without receiving charge. If I'm away I'm unlikely to stay in 1 place without moving for 9 days but we'll assume with no re-charge I should be able to run more than the fridge for a shorter time or with re-charge I can run other things for longer. I'm shelving the idea of being able to have everything electric in favour of the ability to keep the fridge-freezer running for longer but we'll see how things go – it may be possible depending what I do. Things other than the fridge need an inverter (pure sine wave with 20% more power than needed ideally so I planned to get a 3000W one but the battery is only meant to power a 2000W one) which I've put an isolator on to stop it using power all the time it's connected to the battery without the hassle of connecting it every time I want to use it.
Alternator
It was probably my fault for not being specific about exactly where the cables from the MPPT to the battery should and should not be put, but I had to do some tweaking after it had been installed to get it set up to my satisfaction. As a result of that and also possibly because of issues with the inverter I had battery charging issues. Thanks to an OBD device I'm very grateful Sam suggested I get when CoJ v2 was telling me he had low oil a lot, and the free Car Scanner app I was able to see the voltage varying between 12-15 which (according to https://www.12voltplanet.co.uk/news/how-can-i-tell-if-my-vehicle-has-a-smart-alternator.html) means CoJ v3 has a smart alternator.
Lights
I thought a light or 200 was needed. They run from a USB power bank. One 10m strip of coloured lights and one 10m strip of white lights which can be used independently (if I just want a small amount of soft light I go for the coloured ones) or together to give enough light to do pretty much everything you might want in a vehicle.
Entertainment
The fridge has a USB socket and as it's on 24/7 that's an easy source of power for some USB speakers.
Bathroom
Better toilet facilities than I had in CoJ v2 were needed just in case I can't wait to get to civilisation. My best zero cost idea is a tub with a lid and a cat litter tray liner. Liquid already went in a bottle.
I'm torn between sticking with washing in a bowl in the back of the car and setting up a shower… and when you're planning a multi-week exploration I think it would be quite nice to have the option of a shower. There are some amazing and expensive ideas which take heat from the engine to heat water but they are far too expensive for me, and I couldn't fit them myself, so a pressure spray will hang from the boot handle when the boot's up and a mini immersion heater can be used to heat water.
Space
His first trip was just with me to Yorkshire for a weekend. His first trip north of the border was a test of space because there were 3 humans (with a child seat and of course a feline) to transport – 2 of the humans slept in a tent. This meant packing 'light' (if anything in a vehicle with a set up bed and power can be described as light) and I couldn't have a fixed kitchen which I'd like to on my own. Between poorly passengers, rough weather, and a battery that didn't seem to be re-charging it was really a little too much. I couldn't do anything about re-charging the battery from mains as I didn't think there was need to take the mains charger with me and there wasn't exactly spare space – a mistake I will not repeat! A second trip north of the border with just 1 human and 1 feline went much better despite the human getting covid during it!
I'm wondering if a proper enclosed awning which attaches to the side like this or an attachable tent would be of benefit for cooking rather than just a tarp or similar attached to the roof rails. Or something like a pop-up gazebo. At the moment the bank account thinks definitely not! A clever person can make their own but I've been a little creative with a groundsheet and some fabric ISTR my Great Uncle used as a tent fly sheet and I have used to cover the windscreen on previous CoJ's in frosty weather – with the addition of some elastic and toggles in one side it's good enough for a top and side sun shade in calm weather or if I'm trying to travel light I can leave the poles at home and put it over the boot with a groundsheet underneath, and it's multi-purpose. If I acquire some appropriately sized fabric making sides to drop off the boot is another clever idea. Actually I think an enclosed bit that drops down from the boot would be good for weather protection and enable showering…
Costs
If you purchase from the amazon links above I will get a small amount of commission 🙂
Free/ pre-owned:
Carpet
Wood
Back/ front window cover
Bedding
Cooking equipment
Hi-vis
Mini immersion heater